Hello Hunters and Friends
Here at Adobe Lodge, just like the rest of the country, is being hit with high economic increases with everyday living and functioning costs. It has become inevitable that we make an increase in our hunting fee's starting for the 2023 season. It really is with heavy hearts that we make this decision, we hope and pray that you will still consider joining us in camp for future seasons to come. You can take a look at the price changes on our price list. Thank you
---
WHITETAIL DEER - 100% Fair-chase
SPRING TURKEY - Rio Grandes

---
GUIDED AND OUTFITTED HUNTS SINCE 1985


---
Clients Booked for 2022 = 85% Are Repeats

---

Right Here On This Website - You will see


Each and Every Buck

taken in 2021/2022.

---
A TOUR OF THIS WEBSITE WILL GIVE YOU A GOOD IDEA OF WHAT TO EXPECT ON YOUR HUNT WITH US.
---
Low Fence, Fair-Chase. No pen-raised deer.

You decide which buck you will take, not your guide.

All bucks are the same price. No "pay-by-the-inch."

Easy hunting from comfortable, all-weather ground blinds.

Or walk/stalk/rattle with a guide - it's your choice.
Steve Welch
20 5/8" Wide, 10pnt, 147 6/8"
---
Our Buck of the Year collection on this page illustrates the past 19 years of Adobe Lodge history.
These trophies demonstrate the potential size of our low-fence, fair-chase whitetail bucks here in West Texas.
| | |
| --- | --- |
| 2018 Buck of the Year | 2017 Buck of the Year |
| | |
| --- | --- |
| 2016 Buck of the Year | 2015 Buck of the Year |
| | |
| --- | --- |
| 2014 Buck of the Year | |
| | |
| --- | --- |
| 2012 Buck of the Year | 2011 Buck of the Year |
| | |
| --- | --- |
| | 2009 Buck of the Year |
| | |
| --- | --- |
| 2008 Buck of the Year | |
| | |
| --- | --- |
| 2006 Buck of The Year | |
| | |
| --- | --- |
| 2004 Buck of the Year | |
Rio Grande Spring Turkey Hunting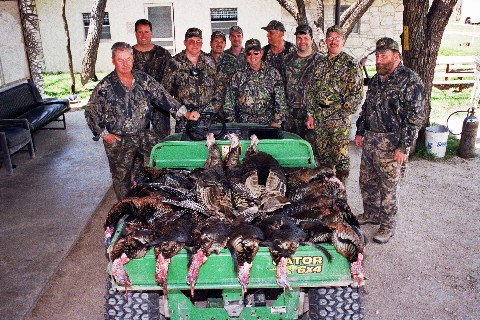 We Have LOTS of Turkeys
Adobe Lodge


Home Camp Since 1985

McManus Camp Since 1989






Jim Holt

P.O. Box 60127, San Angelo, TX 76906

325-650-7185

jimholt15@gmail.com