Hunt #8 and McManus 1 & 2 posted
Check out this link to a video of Hunt 15 2022 created by Michael Bitts and his journey while at Adobe!
---
WHITETAIL DEER - 100% Fair-chase
SPRING TURKEY - Rio Grandes

---
GUIDED AND OUTFITTED HUNTS SINCE 1985


---
Clients Booked for 2022 = 85% Are Repeats

---

Right Here On This Website - You will see


Each and Every Buck

taken in 2021/2022.

---
A TOUR OF THIS WEBSITE WILL GIVE YOU A GOOD IDEA OF WHAT TO EXPECT ON YOUR HUNT WITH US.
---
Low Fence, Fair-Chase. No pen-raised deer.

You decide which buck you will take, not your guide.

All bucks are the same price. No "pay-by-the-inch."

Easy hunting from comfortable, all-weather ground blinds.

Or walk/stalk/rattle with a guide - it's your choice.
Mike McCrea
19" Wide, 10pnt, 133 4/8"
---
Our Buck of the Year collection on this page illustrates the past 20 years of Adobe Lodge history.
These trophies demonstrate the potential size of our low-fence, fair-chase whitetail bucks here in West Texas.
2021 Buck of the Year
| | |
| --- | --- |
| 2020 Buck of the Year | 2019 Buck of the Year |
| | |
| --- | --- |
| 2018 Buck of the Year | 2017 Buck of the Year |
| | |
| --- | --- |
| 2016 Buck of the Year | 2015 Buck of the Year |
| | |
| --- | --- |
| 2014 Buck of the Year | 2013 Buck of the Year |
| | |
| --- | --- |
| 2012 Buck of the Year | 2011 Buck of the Year |
| | |
| --- | --- |
| 2010 Buck of the Year | 2009 Buck of the Year |
| | |
| --- | --- |
| 2008 Buck of the Year | 2007 Buck of the Year |
| | |
| --- | --- |
| 2006 Buck of The Year | 2005 Buck of the Year |
| | |
| --- | --- |
| 2004 Buck of the Year | 2003 Buck Of the Year |
Rio Grande Spring Turkey Hunting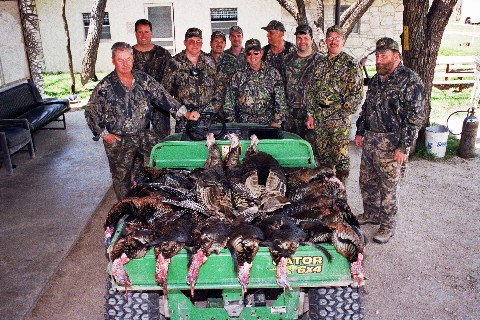 We Have LOTS of Turkeys
Adobe Lodge


Home Camp Since 1985

McManus Camp Since 1989






Jim Holt

P.O. Box 60127, San Angelo, TX 76906

325-650-7185

jimholt15@gmail.com