2023 Turkey Season is just one month away!
Check out the new trail cam pics
Check out this link to a video of Hunt 15 created by Michael Bitts and his journey while at Adobe!
Hunting season 2022 has come to an end. Check out the final hunt and the top 10 bucks of the season under home camp summaries. Turkey season starts April 1, trail camera pics to come in late February. Take Care Ya'll, thank you for another successful hunting season.
---
WHITETAIL DEER - 100% Fair-chase
SPRING TURKEY - Rio Grandes

---
GUIDED AND OUTFITTED HUNTS SINCE 1985


---
Clients Booked for 2022 = 85% Are Repeats

---

Right Here On This Website - You will see


Each and Every Buck

taken in 2021/2022.

---
A TOUR OF THIS WEBSITE WILL GIVE YOU A GOOD IDEA OF WHAT TO EXPECT ON YOUR HUNT WITH US.
---
Low Fence, Fair-Chase. No pen-raised deer.

You decide which buck you will take, not your guide.

All bucks are the same price. No "pay-by-the-inch."

Easy hunting from comfortable, all-weather ground blinds.

Or walk/stalk/rattle with a guide - it's your choice.
Mike McCrea
19" Wide, 10pnt, 133 4/8"
---
Our Buck of the Year collection on this page illustrates the past 20 years of Adobe Lodge history.
These trophies demonstrate the potential size of our low-fence, fair-chase whitetail bucks here in West Texas.
2021 Buck of the Year
| | |
| --- | --- |
| 2020 Buck of the Year | 2019 Buck of the Year |
| | |
| --- | --- |
| 2018 Buck of the Year | 2017 Buck of the Year |
| | |
| --- | --- |
| 2016 Buck of the Year | 2015 Buck of the Year |
| | |
| --- | --- |
| 2014 Buck of the Year | 2013 Buck of the Year |
| | |
| --- | --- |
| 2012 Buck of the Year | 2011 Buck of the Year |
| | |
| --- | --- |
| 2010 Buck of the Year | 2009 Buck of the Year |
| | |
| --- | --- |
| 2008 Buck of the Year | 2007 Buck of the Year |
| | |
| --- | --- |
| 2006 Buck of The Year | 2005 Buck of the Year |
| | |
| --- | --- |
| 2004 Buck of the Year | 2003 Buck Of the Year |
Rio Grande Spring Turkey Hunting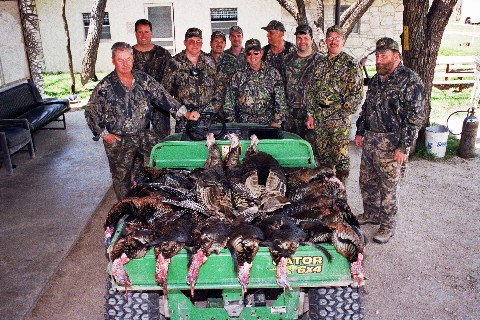 We Have LOTS of Turkeys
Adobe Lodge


Home Camp Since 1985

McManus Camp Since 1989






Jim Holt

P.O. Box 60127, San Angelo, TX 76906

325-650-7185

jimholt15@gmail.com